First of all ,
HappY Labour DaY
to all workers no matter where u are.
It's not much different from the others
SUNDAY
seems it's fall on this day. Mostly some of u had a just similar activities on this day. Yet today ,
MONDAY
just a public holiday to some of us. No more
MONDAY BLUES
but do there is a
TUESDAY BLUES
? Urrmmm , U knew the answers and if for me everyday is so
BLUES
! (:
Back to my topic , my beloved mommy and daddy is still here. 1st May? Rest a home? Nope , I don't! But about early morning my beloved bf woke me up and he is on this way to come over to my place. Once I woke up from sleep , the house is almost clean. Who did it? Of course my mommy and daddy. They woke up around 5something , tidy up the whole house; kitchen,toilet,ceiling fans,hang some cloths and continues washing others.I get into the bathroom and took my bathe. Once I'm done , my bf is here. We both went to
Pasar Borong Seri Kembangan
, Selangor took get some groceries as my mummy did list down some on a piece of paper. After we got those thing , we drop by to
Food Court,Presint 9
to buy
roti canai
for us as breakfast. After had breakfast together then we help one another to cook for lunch but only done chicken curry then mummy can't wait to go to .....
IKEA
....to get some furniture for my sis & me ( I've to pay it back, got it?). Then not much she bought from here so she decide to go to Bangi as my cayang suggested. Why
BANGI
..they want to get a bed.Yeah we
GOT IT
! Then wanted to get durian but not worth it as daddy says. So we went home. Mommy daddy continue cooking and me helping
@ kaypochi
my cayang to fix
TV Bench
. While everyone is busy with own tasks , I got a visitors far away from JB. It's my ex housemate , Fazela. She went for a convoy trip with her fiance, brother and few friends. They drop by to have shower & they also took some dinner before they continue their journey.
After four of us ready, we drop by to...
ALAMANDA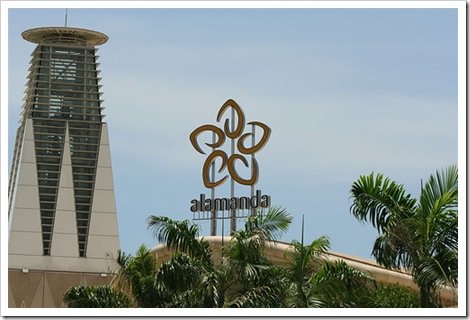 ....again? Yup, mommy need to buy some clothes cause they actually plan to go back on Sunday but they don't manage so. So she don't bring extra clothes and this is the reason why we are here again. After she did some shop, we went home and had supper and sleep.
Aren't a tiring and full-packed of activities do I have? But it's OK , cause daddy exspecially seldom come over.
Hope everyone do have a great day yesterday and today too. Today? They cook fried bihoon then the bed furniture reach. Last packing , about 12pm , they went back to Penang. N now I n my cayang end up hanging out at Seri Kembangan McD.